A call for ducks.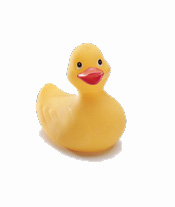 See Yellow Duck?
He wants some friends.
I'm curious...how many people will actually SEND me a plastic/rubber/other DUCK in the mail?
If you send a duck, I promise to put a picture of your duck on this page, along with your name (and email address if you so desire). Think of the fame! Think of the fortune! Okay, so they're no fortune. But think of the fame!
Reminder: Rubber Ducks are CHEAP! So next time you go to the mall, (please) pick one up, personalize it, and send it! Think of the merriment and joy you'll feel when you can show your friends a picture of a duck that YOU sent! You'll be the life of the party in seconds!
I was a little worried to give out my address, but hey, anyone who really wants to know it could look it up in my college directory anyway, so here goes:
John Gephart
600 Kalla Drive
Harrisburg, PA 17109
Let's see what happens....